Welcome to the Cardiff sciSCREEN website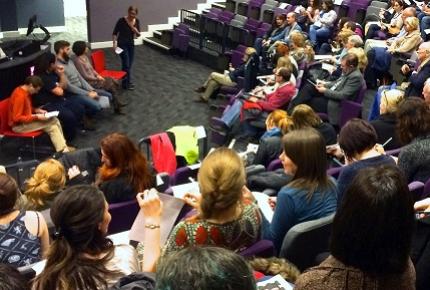 Who are we?
Cardiff sciSCREEN is a Cardiff University public engagement programme organised by members of the MRC Centre for Neuropsychiatric Genetics and Genomics (CNGG), Cardiff School of Biosciences, Cardiff School of Journalism, Media and Cultural Studies, the School of Social Sciences and Cardiff School of Medicine.
sciSCREEN is a cross-disciplinary event which utilises local academic expertise to discuss themes and issues raised by contemporary cinema in an entertaining and informative way. These discussions draw on a range of disciplinary perspectives and the broad repertoire of themes found within various film genres.
Launched in 2010, Cardiff sciSCREEN has organised more than 45 events kindly sponsored by organisations such as Cardiff University, The British Science Association, The Medical Research Council and the Welsh Psychiatric Society. Our regular events are held at Chapter Arts Centre, Cardiff, and the Hadyn Ellis Building, Cardiff University. Events involve three or four academics and other experts discussing the themes and issues raised by the films. Our website is home to over 80 of the essays written by speakers who have presented in past events.
During the 2014/15 academic year we ran events to celebrate World AIDS Day, Human Rights Day, National Science Week, LBGT History month and Mental Health Awareness Week. These event were supported by Cardiff Institute of Infection and Immunity, Cardiff Law School, Cancer Research UK, the British Science Association, the MRC and NCMH, Cardiff School of Social Sciences and ENFYS.
The Team
The Cardiff sciSCREEN team members are Amy Baldwin, Susan Bisson, Jill Wilmott-Doran, Luis Reyes-Galindo, Jamie Lewis, Katie Lewis, Rachael Stickland and Ruth Williams.
How to Find Us
To be added to our mailing list and find out about upcoming events please send an e-mail to sciscreen [at] Cardiff dot ac dot uk
You can follow us on Twitter www.twitter.com/sciscreen
Find us on Facebook.
You can check out our blog at www.cardiffsciscreen.blogspot.com
Want to find out more?
Thinking of running a sciSCREEN event? Read our article published in the first issue of Research for All, a new journal focusing on advancing public engagement with research: Cardiff sciSCREEN: A model for using film screenings to engage publics in university research.
Disclaimer: Please note that any views or opinions presented in the articles on this wesbite are to be understood as those of the author and do not necessarily represent those of Cardiff sciSCREEN, Cardiff University, or any constituent part or connected body.